It seems there is always a rush to upload a new site. Either you're fighting a deadline and need at least some content up by a specific time, or you're just excited about what your new site will look like. Take a deep breath and give some thought to the following before you upload your site.
Previewing Your Pages
Before you place your web pages onto your web host's server, you should always preview each and every page in as many browsers as possible. For most of you, this will be IE, Firefox, and preferably the latest version of Opera and Chrome. To do this, go to File > Preview in Browser and choose your options from the menu.
While we all love surprises, it is wise to know beforehand if that long hyperlink or panoramic image you inserted is going to break your page layout. These kind of surprises we can all live without. Test, test again, and then test once again.
Change the page title on all pages as appropriate.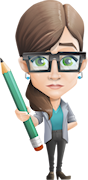 Your page title carries weight in the search engines. A page title of "Home" or "Contact" tells nothing about your site, so give some thought to descriptive titles. It is especially important for you to change the title on the home page.
Trust me, you do not want Google to index your site and list "Template 4100" as your title.
Delete or modify the description meta tags on each page.
In each template, we include blank "meta tags" for the page description. While not all search engines read these meta tags, it is a good idea to edit these tags as appropriate to your site. You can edit each page's meta tags through the Page Properties dialog box or by hand in split or code view. Again, you do not want to publish with the meta tags showing "add your content here".
Spell check each page.
This is just common sense. Running a quick spell check (F7) on each page is fast and easy. Yes, it is still possible to use a wrong word -- red for read -- but only careful editing will catch those kinds of errors.
Don't publish pages that are not ready for prime time.
Do not publish the template without editing the text first. Placing the template online without removing our demo content is like redistributing the template and is not acceptable in your license agreement.
If you have some pages that are not quite ready for the world to see, it is better not to publish those pages rather than have "under construction" signs on the page. After all, a web site is always being changed as new content is added.
Not quite sure? Publish to a test location first.
Most web hosts will allow you to publish "child webs". You can publish your site to http://www.yoursite.com/testweb/ that will create a folder inside of your root web called "testweb". This is an independent web where you can test all of your new site's features.
This may be especially important if you have an existing site already and want to test your new one. Once everything is as it should be, you can remove your current site and publish your new one.